What Is the Difference Between Car Valeting and Car Detailing?
The detailing industry is becoming popular day by day, with the industry expected to touch the billion-dollar market value pretty soon. That's all thanks to people's interest in protecting their vehicles, and also thanks to the investors/business owners who are working to improve detailing right now.
If you are one of those who are looking to get on the bandwagon, you have come to the right place. That's because here we are going to answer one of your biggest questions: 'what is car valeting and car detailing?'
The two terms commonly pop up when you make a google search regarding car detailing. So what's the deal here? Are the two related or is there a difference between them?
Let's find out!
Car Valeting
Car valeting lies more in the realm of cleaning, waxing, or polishing a vehicle to make it look brand-new. You could call it an advanced form of a car wash. The difference is that the car wash people rush through the job and do not pay enough attention to detail. A car valeting service, on the other hand, involves taking care of your car in a meticulous manner. The people working on your vehicle, pay extra attention to detail so that the results are always beyond satisfactory.
The process helps increase your car's resale value and make it more attractive to potential customers. You could make a rusty old car look more appealing by keeping it nice and tidy, especially if you choose valeting more often. So, if valeting isn't already in your consideration, you should definitely make it part of your schedule.
Moreover, valeting not only includes all the basic cleaning stuff, but it also adds washing/polishing the wheels, polishing and waxing the exterior, and cleaning the windscreen as well as the window glass to the list. The cleaning job can include the use of dedicated equipment and materials, such as car shampoo, clay-bar soap, wax, and polish. These items are commonly used for in-depth cleaning. So, all the dirt and gunk stuck underneath or on your vehicle is targeted and washed away. You will see a pressure washer at work here, because this machine cleans with precision and accuracy. The chemicals inside these useful materials also help bring out the shine in your car without damaging the paint.
Furthermore, the interior is given special consideration since it is one of the dirtiest areas in your vehicle. The folks working on your vehicle carefully remove dirt and any unwanted stuff from inside your car. They'll do this with the help of a vacuum cleaner or small brushes that can reach any crevice. Once that is done, all the fabric and plastic surfaces are cleaned using an all-purpose cleaner.
Mobile car valet services can do all that at your driveway. So, you can get mobile car washes right at your doorstep.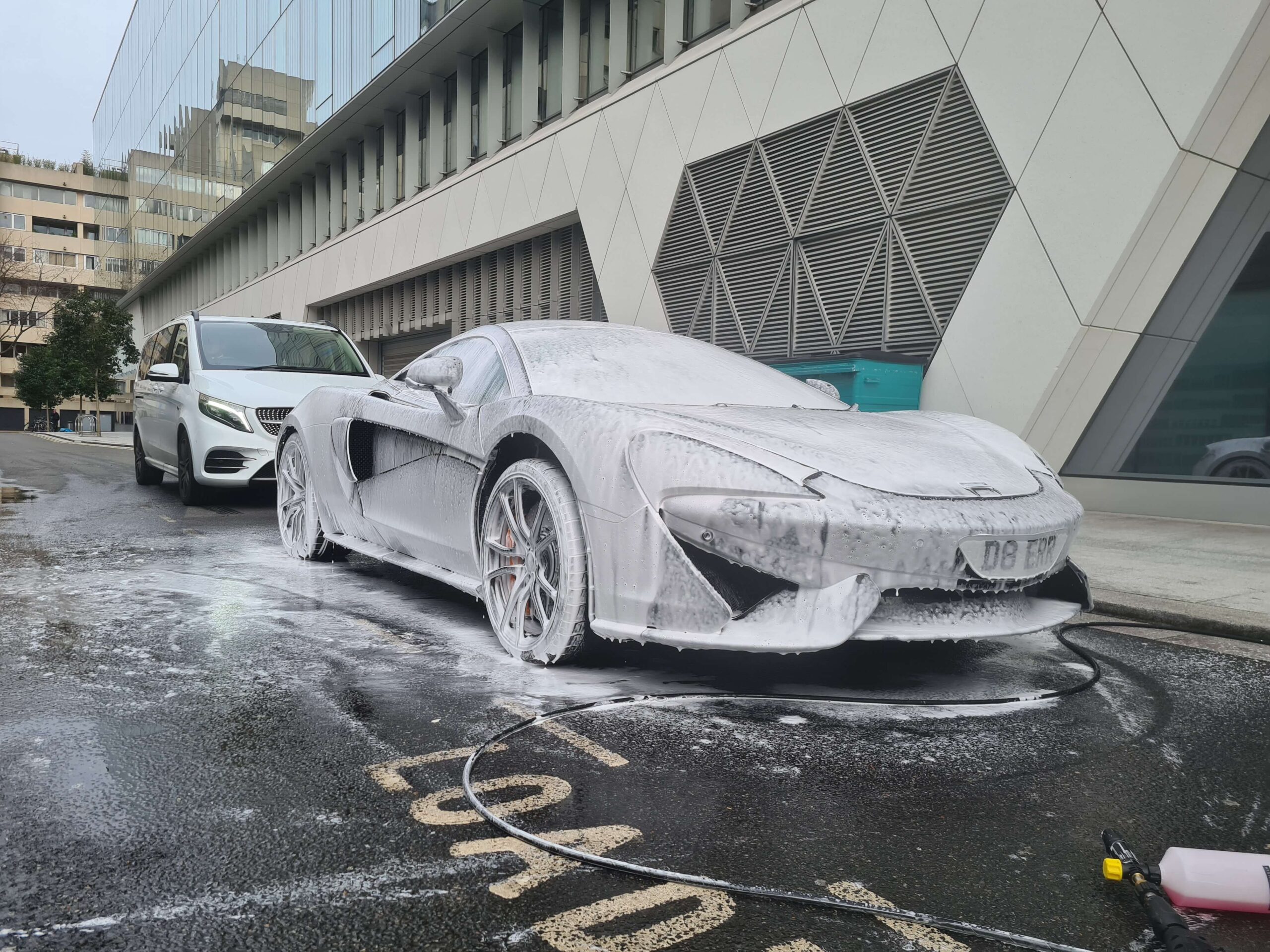 Car Detailing
If the two are pretty much the same, what is the difference between them? Well, detailing involves more in-depth cleaning, with more focus on protection and improvement of the vehicle. The service includes advanced stuff, such as paint correction, spot removal, swirl mark removal, ceramic coating etc.
As such, advanced machinery, like a machine polisher is used along with a pressure washer. The machine is best operated by an expert to remove swirl marks and reduce refraction in the paint. The result is a shinier looking car with a more vibrant looking exterior.
Detailing also involves services, such as glass coating, partial coating, or vinyl wraps. You can choose either one of these to protect your vehicle against minor damages. The different types of coating jobs require specific expertise and knowledge of how to use the product. Therefore, this process is usually done by professionals trained to perfection.
They take a thin sheet and stick it on top of your car's exterior. The film is transparent and doesn't change the colour of the vehicle's paint in any way. This entire process must be done with meticulous detail, or else the results are not satisfactory.
Once done, the ceramic coat protects your vehicle from scratches and even minor dents. In short, whatever damage comes to your car is absorbed by the ceramic shield. The original paint remains in perfect shape. And you even have the option to renew the ceramic coat every few years to maintain the protective shield.
The initial cost is a bit on the higher side, but you are saving more money in the long run by keeping your vehicle protected. Thankfully, renewing the ceramic or glass costs lesser than the first time. So, it is an overall intelligent investment, if you choose to go that way.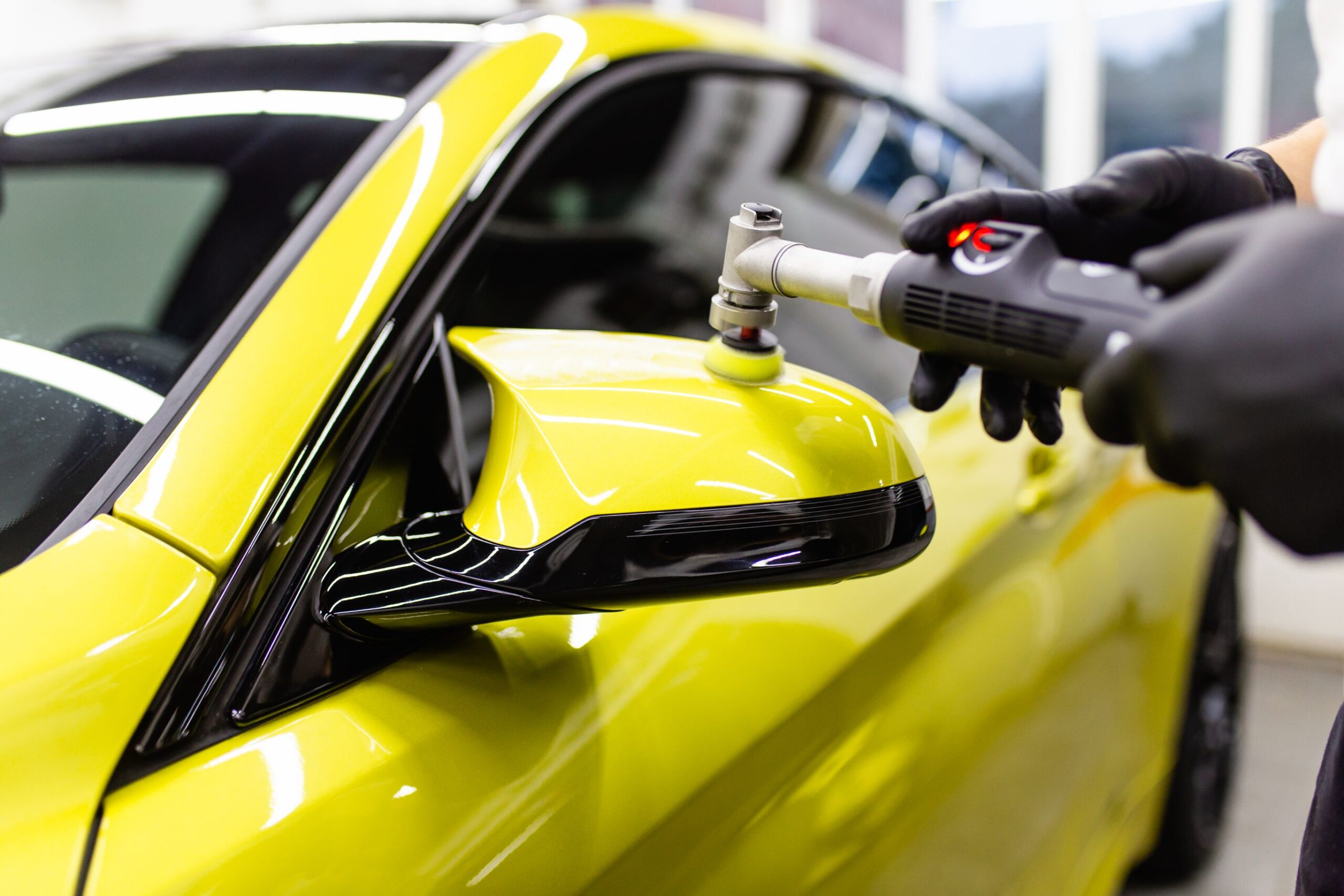 Do you need Car Detailing?
The short is the answer is yes. Every car owner must get a valeting or detail done once in their lifetime. The service enhances the look of your vehicle, and that too at a small cost. The difference in your car's appearance is mind-blowing and too impressive to ignore!
But most of us are busy people, and we cannot find time to drive to a detailing shop and get the work done. Thankfully, there is a hack for that, and it is a useful one as well.
The answer is mobile detailing shops. These businesses are on wheels and will come to you whenever you call. They have dedicated vans with all the required equipment inside. All you need to do is give them a call, and they'll come to your doorstep.
The result is that you save time and get to see exactly what is happening to your vehicle from the comfort of your home!
Medusa Auto Detailing offer a range of valeting packages like our Bronze or Silver Valets and detailing such as our Enhancement Package
All bought to you with minimal hassle through the booking platform